Czarter jachtów w Mindelo

LAGOON — 450 S (2017)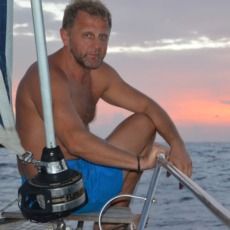 Liczba osób: 12
· Liczba kabin: 6
· Liczba koi: 12
· 4 łazienek
Z lub bez kapitana
Zarezerwuj tę łódź z profesjonalnym sternikiem lub bez niego
Warunki rezerwacji
Tę łódź można wyczarterować na minimalnie 7 dni, wypłynięcie od Sobota
katamaran od Czeslaw - Opis
Katamaran LAGOON 450 S 14m.
Technical datas Length over all LOA 13,96 m / / 43'11" Beam over all 7,87 m / 25'1" Mast clearance 22,33 m / 73'3" Draft 1,30 m / 4'3" Displacement (ECC) 15 t / 33075 Lbs Upwind sail area 129 m² / 1388 sq.ft. Full batten mainsail 79 m² / 850 sq.ft. Square top mainsail (option) 81 m² / 872 sq.ft. Furling genoa 51m² / 549 sq.ft. Fresh water capacity 2 x 300 l / 78 US gal Fuel capacity 2 x 520 l / Standard motorization 2 x 57 hp CR Architects VPLP Design Interior Design Nauta Design Number of berth 12 EC Certification A:12 – B:14 – C:20 – D:30 CONSTRUCTION Polyester and high quality anti-osmotic resin Hull and deck laminated by infusion Balsa core hull, solid laminate uder water line, white gel coat Balsa core bridge deck and deck Laminated marine plywood bulkheads SAILS AND RIGGINS SAILS 1 high roach mainsail in Dacron with battens and LAGOON logo, 2 straps 1 genoa in Dacron with UV protective band, 1 strap RIGGING Tripod aluminium mast with mainsail track and ball-bearing Aluminum boom 2 encased shrouds 1 genoa forestay with manual furler 2 lazy-jacks for the mainsail Deck light on the mast RUNNING RIGGING 1 double purchase spectra mainsail halyard 1 spectra Genoa halyard 1 mainsail sheet pre-stretched 2 genoa sheet pre-stretched 1 boom topping lift 3 reefing lines (1st dynema) 1 genoa furling line pre-stretched 2 mainsail traveler car control lines pre-stretched HARDWARE 3 manual winches 60.2 STA (mainsail) Genoa tracks with cenoa car and stopper Anodized aluminium crossbeam with mooring point for the genoa furler, anchor roller and navigation lights MOORING Composite longitundinal crossbeam with avec integated chain and forestay chain plate cal windlass with vertical axe, gypsy (chain 12mm) and wirelless remote in the anchor olcker. Access to the windlass and to the anchor locker through a vertical hatch VARIOUS EQUIPMENT Pushpits with on port with flag pole and buoy bracket Height of the stanchions: 610 mm 2 ranges of life line. MOTORIZATION 2 diesel engines YANMAR 4JH57 57cv common rail sail drive 2 blades fixe propeller Sea water filter Mechanical engine throttles at the helm station Ventilation of the engine compartment: electrical extraction in the aft transom Sound-proofing of the engine compartment Fuel circuit 2 aluminium tanks of 2 x 520 liters Fuel filter systems Fuel shut off valve Gauge at the general control panel PLUMBING Fresh water tank: 2 x 275 l with gauge at the chart table Fresh water circuit with 1 main water group in the port companionway 60 l electric water heater, 220V / Engine exchanger GREY WATER Shower and washbasin drain to grey water tank and automatic pump Galley sinks drain directly overboard BLACK WATER 4 cabin 4 head – 4 tanks 80 l (total 320 l) BILGE PUMP CIRCUIT 1 manual bilge pump in each hull with cockpit pump. 1 automatic immersed bilge pump by hull. 1 manual release non-immersed bilge pump by hull. ELECTRIC POWER CIRCUIT breaker under the bed of the aft starboard cabin DISTRIBUTION ELECTRIC PANEL 12VGeneral distribution panel at the chart table with protection by circuit breaker Ammeter, voltmeter, circuit breaker, panel lighting, cigarette lighter LIGHTING 12V LED outside and inside lighting Navigation lights LED 12V lighting in the engine compartment DECK LAYOUT TRANSOM Hot/cold deck shower on standard S/s telescopic swim ladder with fixe handle on standard Storage on the side of the transom (port and standard) AFT COCKPIT Large cockpit usable as a deck salon, protected by a hard top bimini. "U" bench on portside with storage locker. Gas locker(2 bottles of 10 kg). Removeable polyester cockpit table 8 / 10 people. Large storage locker with possibility to install option like icemaker and synthetic resin countertop. 1 "Lazy boy" area with locker in the sit on standard. Waste bin with upper access and lateral door on portside. Storage locker with top access (70 l) and evacuation on portside. Polyester fiddle anti-runoff on the sides of the cockpit. HELM STATION Composit staircases to access from the cockpit. Helmsman bench with 2 seats. Leather covered s/s steering wheel. Instrumentation console. Cup holder with s/s lining. Storage on the side of the helm station. Access to roof via a staircase with teak steps and s/s structure + handrail. Storage bag for the halyards on the portside of the helm station. Composite locker with flap for the storage of the halyards (under the staircase to access to the roof, along the salon / cockpit bulkhead). FORWARD COCKPIT "U" seating area. Storage locker under the portside seat – generator. Storage locker under the portside seat. Storage locker under the central seat. Trampoline with nylon thread. BOW LOCKERS Access through opening deck hatches with locker. Wooden floor. White painting Lighting INTERIOR LAYOUTS GENERALITIES Interior woodwork in Alpi Walnut plywood. Asburgo laminated floor. S/s handrail leather covered. Fabric – covered plywood ceiling fiberglass liners in cabins and wash rooms. Fabric – covered plywood on hull liner in cabins. Access to the cabins and bathrooms without doorstep. STANDING HEADROOM Salon: 2,06 m Cabin: 2,04 m Bathroom: 2,04 m MATTRESS UPHOLSTERY Marine mattresses made of multi-layer alveollar foam with several denisities (tick. 130 m,m). Mattresses treatment: anti-microbial, anti-bacterial, non-alergiic, anti-dust mite. Standard upholstery as indicated opn lagoon sample book. Syntetic Fabrics adapted to marine environment: Washable (40º C). U.V. Resistant. Water repellent, with anto-static treatment. Blackout curtains in the cabins and salon. LIGHTING 12 V LED celling spotlights. 12 V LED reading lights headboard. 12 V LED reading light with red light at the chart table 4 cabin 4 bahroom version SALON Sliding door and window with aluminium locker for the access to the cokpit, can be ocked open or closed. Large varnished salon table exchangetable with the polyester table from the cockpit (and the low table in option) and convertible in breth. 6 seats ''L'' bench on startboard. Locker under the bench. Various high and low storage on the standard cupboard in the starboard cupboard in front of the table (option TV/ section fridge or freezer). Storage niche on the bulwark (essential equipment). Fabric covered seel piliar. Wooden gunwale. 2 opening portholes in the front window. 1 opening porthole in the port side window. CAHRT TABLE Large instrument console with panel to install electronics. Seat "pouf". Desk with flaps. 2 storage niches. GALLEY ''U'' shape galley onn portside. Synthetic resin countertop. Double s/s sink with hot/cold mixer tap. Storage under the sink. 3 bourners gas stove. Grill oven with front door. Flap under the oven Bottle Storage. 12 V 130 L fridge with wooden front door. S
Więcej
Możesz nam zaufać!
Nasi eksperci są do Twojej dyspozycji, aby pomóc Ci zorganizować indywidualny rejs.
Poproś o spersonalizowaną wycenę
katamaran - Wyposażenie
Zobacz pełne wyposażenie (+17)
Usługi katamaran
Transit log / Inne opłaty
Zobacz wszystkie usługi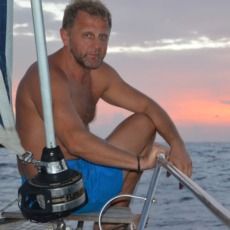 Członek od:
Październik 2018
Lokalizacja
katamaran w lokalizacji: Mindelo, Wyspy Zielonego Przylądka
Charakterystyka
Pojemność:
Liczba osób: 12
Ilość kabin łazienkowych:
4
Zobacz wszystkie funkcje
Zobacz mniej
Prośba o wycenę
Pomoże Ci doradca ds. rejsów. Kliknij tutaj