View boat design plan Se bilder (+34)
Hyr båt i Heraklion · Elan — 514 Impression (agia Pelagia Day Trips, Heraklion) (2012)
Heraklion Old Venetian Port
Segelbåt owned by Ioannis
12 personer
· 5 hytter
· 12 kojplatser
· 5 badrum
Med skeppare
Ägaren av båten kommer att vara med dig ombord.
Superägare
Ioannis is an experienced boat renter with excellent reviews and is committed to providing quality services.
Price includes fuel
The charter includes the price of gas.
Beskrivning av Ioanniss segelbåt
Segelbåt Elan 514 Impression (agia Pelagia Day Trips, Heraklion) 16.15m
PRIVATE LUXURY FULL DAY TRIPS ** Full - Day Trip to Agia Pelagia / Duration: 8.5 h / Starts at: 9:30 or 10:00 or 10:30 ** Full - Day Trip to Agia Pelagia + Sunset Views / Duration: 8.5 h / Starts at: 11:30 or 12:00 or 12:30 TRIP OVERVIEW Agia Pelagia is an astonishing seaside resort, built in the center of a picturesque, amphitheatrical bay. Actually it is a complex of eight awe-inspiring, sandy coves. The area also includes a number of smaller, secluded beaches, protected coves, and coastline formations, the majority of which are unreachable except by boat. It is hard to put down in words the extravagant, Caribbean-like landscape. Ever calm sea, tropical aquamarine waters, palm trees, golden sand and rocky platforms lying on the shallow waters. Try a unique sailing experience. Escape to Agia Pelagia bay in style, elegance, and comfort. Meet your guide and board a luxurious, 16,15 m (53 ft) sailing yacht, which boasts a massive swimming and entertainment area, ample cockpit, expansive front deck equipped with highest quality mattresses, extra freezers and drink fridges, washrooms, and air-conditioning. Enjoy a completely private sailing tour and take in views of the magnificent coastline. Once reaching the bay feel free to swim, fish, snorkel, try out stand-up paddle boarding or just relax and suntan onboard. Savor delicious sandwiches, seasonal fresh fruits, soft drinks, and white wine served by the crew. You may also enjoy a delicious Mediterranean meal onboard (optional, may be ordered after booking at an extra cost). Cruise back to the old Venetian harbor feeling amused, recreated, and ready to seize the day ahead. SUNSET CRUISES (complementary to the above) * Absorb every second of the stellar sunset and the twilight magic as the sun, led by God Helios riding his golden chariot, dives into the magnificent Aegean Sea. * Capture the magic moments forever by taking amazing photos or videos if you feel like it. Release your mind and let your romantic summer dreams become real. * As night falls, cruise back to the old Venetian harbor under the brilliant starlit Cretan sky feeling relaxed, delighted, and totally refreshed. INCLUSIONS - Experienced skipper and hostess, Fuel, Taxes, End cleaning fee - Mediterranean menu (Pasta with shrimps in tomato sauce, Greek salad) - Seasonal fresh fruits - Soft drinks, water, white wine, coffee - Charter + Fun pack: 1 x Sea scooter, 1 x SUP (Stand Up Paddleboard), 8 x snorkeling sets, 5 x fishing rods, various inflatable water toys. EXCLUSIONS - Hotel pickup and drop-off - Beach towels - Gratuities SAILBOAT HIGHLIGHTS - Name: TREATON - Model: Elan Impression 514 / Built in 2012 / Expansively renovated in 2023 (new engine, new mainsail, new genoa, new pipe valves, new internal couch fabrics, new cockpit cushions, new deck mattresses etc.) - Luxurious, Air conditioned, 53 ft sailboat, the largest, safest, and most comfortable in Heraklion Port (especially under windy weather conditions) - The open sitting / cockpit area is extremely roomy, the most spacious (by far) in the yacht's class - The opening back door and the three unfolding steps provide an extensive swimming and entertainment area - Underwater blue / white night lighting in the stern - Ample sunbathing areas in the front deck, equipped with comfortable mattresses - Deck and cockpit floor is solid teak wood. - The retractable BESENZONI gangway is exceedingly helpful and convenient while getting in and out of the yacht - The extra fridge at the cockpit table. - The hot / cold water shower at the swimming platform - The roomy main lounge and the spacious, fully equipped galley (includes fridge, freezer, microwave oven and espresso coffee machine) - The three separate Air condition/Heating units - For Day Cruises guests may use 1 cabin with electric toilet and shower (including clean bed linen and towels) in case they need to rest or have a nap ADDITIONAL INFO - Modifications to the trip schedule may be applied depending on weather conditions. - In case the trip has to be cancelled due to severe weather conditions you will be offered an alternative day. If no other date can be found, you will get a full refund. CANCELLATION CONDITIONS - You may cancel your trip anytime, for any reason. Notice of a request for a cancellation, must be sent in writing (via e-mail). Our refund policy on cancellations is as follows: - More than 90 days before check-in: No charge. - Between 89 and 60 days before check-in: 30% of the deposit will be refunded. - Less than 60 days before check-in: 0% of the deposit will be refunded. However, If the boat is re-booked for the same dates the client will be refunded. Only the dossier expenses (180 euros for Half or Full Day charters) will be charged.
Läs mer
Boat plan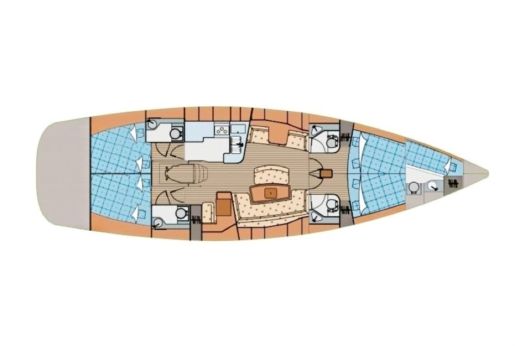 Du kan lita på oss!
Våra experter står till ditt förfogande för att hjälpa dig att organisera din skräddarsydda båttur.
Be om en personlig offert
segelbåt Utrustning
Visa all utrustning (+34)
Visa all utrustning (+39)
Tjänster för segelbåt
APA (avancerad proviantkvot)
Övergripande betyg
Båtens överensstämmelse
Komfort ombord
Standard för underhåll
Renlighet
Mottagande och kommunikation
Valuta för pengarna
Joined in juni 2018
·
Professional owner
Ioannis är Superägare
Superägare är erfarna båtägare som har fått positiva recensioner och har åtagit sig att tillhandahålla tjänster av högsta kvalitet.
Talade språk:
Grekiska, Engelska
Svarsfrekvens:
Mer än 90%
Plats
Plats för segelbåt: Heraklion Old Venetian Port, Heraklion
Funktioner
Modell:
514 Impression (Agia Pelagia Day Trips, Heraklion)
År:
2012 (Reparerad 2023)
Kapacitet ombord:
12 personer
Visa alla funktioner
Visa mindre
Villkor
Check-in & Check-out
Tid för incheckning (hyra över dagen):
10:00
Tid för utcheckning (hyra över dagen):
18:30
Tid för incheckning:
10:00
Tid för utcheckning:
18:30
Boat rules
Belopp för deposition:
0 kr
?
Bränsle ingår i priset:
Ja
Skicka förfrågningar till liknande båtar